BCGC January Newsletter with farewell from Marty Mulvihill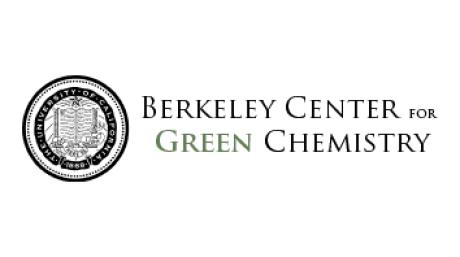 BCGC Newsletter January 2016
The Berkeley Center for Green Chemistry
Helping to transform society's production and use of chemicals and materials
The University of California Berkeley Center for Green Chemistry is an academic program that advances green chemistry through interdisciplinary scholarship. BCGC pursues innovations in education, research and public engagement. We are faculty, researchers, and students in the Colleges of Chemistry, Natural Resources and Engineering, and the Schools of Public Health and Business.
BCGC January 2016 Newsletter
Outgo
ing Executive Director Marty Mulvihill reflects on five years with BCGC
I first fell in love with
m
olecules in my sophomore organic chemistry course. I remember commenting to my lab partner that orga
nic chemistry problems were much more interesting than crossword puzzles, and they should be included i
n newspapers (with spelling as poor as mine, crosswords were never very fun). After f
ailing to convince o
thers of the merits of Sunday chemistry problems in the newspaper, I entertained myself by digging into the chemistry of the materials and pro
ducts in our everyday world. Understanding the design and use of molecules has become a life-long endeavor. These last five years at the Berkeley Center for Green Chemistry (BCGC) have been wonderful, providing me with the opportunity to deepen my appreciation of chemistry and the larger social, economic, and political structures that influence the selection of chemicals.



The mission of the BCGC is to advance the design, adoption, and use of inherently safer and more sustainable chemicals. We have made great strides in the past five years to normalize Green Chemistry and sustainability within the culture of chemistry. We have also succeeded in getting faculty and students outside of chemistry to be interested in how chemicals and chemistry both contribute to and can help solve many of the modern era's environmental and health challenges. Our students and faculty have also spent an extraordinary amount of time translating the principles of Green Chemistry to broader audiences, including providing advice and training to state regulators, business, and K-12 students. These educational, research, and engagement projects have helped grow our Center from a handful of students, staff, and faculty into a program that has made lasting impacts on the way the people approach chemicals on and off campus.



We have be able to successfully bring faculty and students from a broad range of disciplines together to research and discuss both the drivers and barriers to Green Chemistry adoption. In the beginning, students and faculty struggled to find common language and approaches, slowing our progress on interdisciplinary initiatives. After a few iterations, however, we found the best way to remove these barriers was to assemble interdisciplinary teams of students within a classroom setting and have them work together to address materials selection challenges. These classes and projects have challenged the faculty to think and teach in new and more interactive ways, which has strengthened our ability to collaborate. By focusing on projects rather than lectures, we have been able to avoid trying to make everyone an expert on everything, and instead have focused on teaching techniques for productive collaboration and communication. The Greener Solutions program grew out of this approach and is now one of our flagship programs.



Greener Solutions has been a success because it simultaneously advances our educational, research, and engagement approaches to promoting Green Chemistry. During our early days as a Center we struggled to find ways to engage productively with external stakeholders. We spent too much time talking about what we might do and not enough time talking with people who were interested in solving particular chemical challenges. The Greener Solutions program partners interdisciplinary teams of students with external partners who have chemistry challenges. This is great for our students, who crave real-world application of their deep technical knowledge. It is beneficial for our partners, who gain insights into their chemistry challenges and have the opportunity to work with some of Berkeley's best students. The program has also been a great testing ground for new research projects and approaches.



In just five years, BCGC has had a large and lasting impact on the educational landscape at UC Berkeley. Our initial grant funding in 2010 from the Cal EPA focused on the development of Green Chemistry undergraduate chemistry laboratory curriculum and the development of an interdisciplinary graduate course. By 2012, our team had managed to incorporate a dozen new experiments into the curriculum and, more importantly, we also helped create action within the Department of Chemistry to renovate all of the undergraduate labs and put Green Chemistry and sustainability at the core of this initiative. The Department went on to raise 10 million dollars for this initiative including a three million dollar gift from the Dow Foundation. Similarly, our interdisciplinary graduate class, first offered in 2011, has grown into an NSF funded educational program that funds 25 graduate students from departments across campus. We now offer two graduate classes and are continuing to engage more students on issues related to Green Chemistry.



This is an exciting time for the Berkeley Center for Green Chemistry; in many ways we are still getting started. Institutional change is slow, but after five years we have built some momentum, and I believe that we will be able to have an even bigger impact on interdisciplinary research at the nexus of chemicals, basic resources, and manufacturing in the coming years. We have a number of new projects developing in the wings and I am very excited to watch how they take shape under the capable leadership of the new executive director Tom McKeag, and the Center staff and faculty. I am also looking forward to continuing my work with students pursuing projects with the potential to improve the safety and sustainability of chemicals and products. My interactions with students have always been the highlight of my role at the Center and I am grateful that I will continue to have the opportunity to work with passionate students and innovators in my new role as Senior Advisor.



What we have accomplished at the Berkeley Center for Green Chemistry wouldn't have been possible without the support of the College Deans and the Vice Chancellor for Research at UC Berkeley. The early support from the College of Chemistry, School of Public Health, College of Natural Resources, and the Haas School of Business were essential for giving the faculty the time and freedom to create the Center. We at the Center are grateful to our many funders, who include state and federal agencies, a number of foundations, and our industry partners (more information about these supporters can be found on our website). The Center has also benefited greatly from the interactions we've had with the larger Green Chemistry community around the country. Our curriculum efforts were supported by all of the work that came before us at the University of Oregon, ACS institute for Green Chemistry, and the Beyond Benign Foundation. Finally, I am personally grateful to all of the faculty, students, and collaborators that I have worked with during my tenure as Executive Director. I have learned something new every day and I could not have done it without all of you. Thank you!
Tom McKeag is replacing Marty as executive director of BCGC. Tom comes from a planning and design background and is one of the leading voices of the bio-inspired design movement. He's also the co-founder and editor of Zygote Quarterly magazine, writes the Biomimicry Column at Greenbiz.com, and is an adjunct professor in the Industrial Design Department at the California College of the Arts where he teaches the BioWerks studio.
Congrats to the graduates of Greener Solutions 2015!
Greener solutions students worked with Autodesk and Method to improve the safety and sustainability of 3D printing and laundry detergent
The Greener Solutions Course, our interdisciplinary project-driven graduate class in which students work with corporate clients to develop "greener solutions" to specific sustainability challenges, has wrapped up another successful semester. In this year's program, students worked with Autodesk to develop safer and more sustainable resins for 3d printing, and with Method to develop laundry detergents that work effectively in cold water, low-energy wash cycles.



On December 8, 2015, this year's participants—nine graduate students from several different departments—presented their results to an audience that included EPA officials, Autodesk and Method employees, and campus faculty. Students begin the course by learning about biomimetic design, and this biological inspiration was evident in many of the solutions they proposed for 3d printing and laundry detergent.



Autodesk, Method, and the rest of the audience were very enthusiastic about the student proposals, and some of the class members may continue working with their clients outside the scope of the class. Billy Hart-Cooper, a PhD student in the College of Chemistry, worked with Method as part of last year's Greener Solutions course, and still works with them as an independent consultant to continue the work he started in Greener Solutions. Autodesk has also hired a Greener Solutions alum, Justin Bours, who helped this year's students with their project.
Ellen MacArthur Foundation publishes new report on the future of plastics

BCGC Executive Director Tom McKeag served as an advisor to the EMF's report on applying circular economy principles to plastic production. The report is available here.
Greener Solutions student work on safer preservatives published in Happi magazine

Adam P. Byrne and Billy Hart-Cooper's work with Method and the USDA on testing for sustainable preservatives is published in Happi, and you can read ithere.
Green Chemistry Community
Upcoming Green Chemistry Education Webinars Hosted by Beyond Benign
Implementing Green Chemistry in the Introductory Analytical Course
Dr. Douglas Raynie, South Dakota State University
February 3, 2016 2:00pm – 3:00pm EST,
Register Now!
Abstract: There has been some reluctance to introduce green chemistry principles into the analytical curriculum, particularly the "quant" course. This may partially be due to the delay in the emergence of green analytical chemistry, an already crowded curriculum, lack of awareness of green chemistry, or a different philosophies in the placement of green chemistry in the curriculum. In this webinar, Doug Raynie from South Dakota State University will present an assessment of the current state of green chemistry in relation to the quantitative analysis course, suggest the use of green chemistry assessments as a means of providing awareness, and discuss laboratory experiments which demonstrate specific green chemistry principles.
Using Green Chemistry in High School and General Chemistry Courses

Dr. Sally Henrie, Union University

March 1, 2016 1:00pm – 2:00pm EST, Register Now!
Abstract: Due to environmental concerns, potential health hazards and disposal costs associated with typical laboratory experiments, it is essential that education materials are developed that incorporate green chemistry principles into laboratory exercises while covering traditional topics. This webinar will explore how this is accomplished by the various Green Chemistry Laboratory Manuals created for introductory high school, introductory college and general chemistry/AP courses, including traditional, homeschool and web-based settings. Emphasis will be placed on the new general chemistry/AP level manual and how it encourages students to investigate the practice of green chemistry. It is designed to provide science students with a solid foundation during this significant time when they are beginning their college chemistry training.


The Green Science Policy Institute Flame Retardant Dilemma and Beyond Symposium
When: Friday, February 12, 2016, 8:30am - 4:00pm
Where: 150 University Hall, UC Berkeley, 2199 Addison Street, Berkeley, California
How can we achieve fire and environmental safety as well as protect public health? This series brings together contributors from academia, industry, government, and NGOs to share information on the science and policy of flame retardants and other harmful chemicals to reduce their use and protect our health.
Call for Papers: The 20th Annual Green Chemistry & Engineering Conference "Advancing Sustainable Solutions by Design"

Submit your abstract by February 15 to present at the 20th Annual Green Chemistry & Engineering Conference (GC&E) held June 14-16, 2016 in Portland, Oregon.

This premier conference on green chemistry and engineering annually hosts hundreds of participants from around the world in industry, government, and academia to share research breakthroughs as well as business and education strategies to ensure a green and sustainable future.

If you're interested in contributing your work to GC&E by presenting a paper, or would like to see a listing of topics to be covered, visit the technical trackprogram page at this year's conference website.
Green Chemistry Opportunities
New Faculty Position in Green Chemistry at the University of Toledo

The Department of Chemistry and Biochemistry and the School of Green Chemistry and Engineering at the University of Toledo invite applications for a tenure-track faculty position in green chemistry. Applicants with expertise in any sub-discipline of chemistry having research interests focusing on an emerging area of green chemistry are encouraged to apply. Strong preference will be given to applicants working on the rational design of safer chemicals, prediction of chemical toxicity, conversion of biomass to platform chemicals, and green synthetic methodology. The ability to teach courses in green chemistry, environmental chemistry, and/or toxicology is preferred. The position is expected to be at the assistant professor level, but senior appointments will be considered.Review of applications will begin onFebruary 1, 2016 and continue until the position is filled.




HBN is seeking a full time Materials Researcher.

Healthy Building Network (HBN) is a Washington, DC-based 501(c)3 nonprofit with a mission to transform the building materials market to advance the best environmental, health and social justice practices. HBN has led the transparency movement in green building with leading edge policy, research, data systems, evaluations, and collaborations with like-minded organizations.



The role of the Materials Researcher is to contribute to HBN's body of research on building products, chemicals, and related health hazards. In recent years, HBN has researched and issued the first in a series of reports on inadvertent contaminants in recycled content, co-authored a position paper with architecture firm Perkins + Will on the avoidance of PVC building products, published research into asthmagens, and identified non-phthalate plasticizers currently being used in building products. The Materials Researcher would be responsible for the foundational research, analysis, and writing of similar publications as part of HBN's research team.
Learn more about the position here.



How to Apply

Please email in PDF format a letter of interest; a resume or CV; two writing samples (published articles or research papers), two references (including name, organization, phone and email); to jobs@healthybuilding.net. Please, no phone calls.





ACS Summer School on Green Chemistry & Sustainable Energy

The 2016 ACS Summer School on Green Chemistry & Sustainable Energy will be held June 21-28 at the Colorado School of Mines in Golden, Colorado.
The Summer School is open to graduate students and postdoctoral scholars studying in the United States, Canada, and Latin America. Most applicants are studying for or have earned advanced degrees in chemistry or chemical engineering, but applicants from other fields will also be considered. The program is sponsored by the ACS, ACS Petroleum Research Fund, and ACS Green Chemistry Institute. Coach-class airfare, ground transportation, shared on-campus housing, meals, and all program costs are provided to students. International attendees will be reimbursed for the costs of their visas, if needed.
Application deadline is January 29, 2016.
BCGC is on social media!

Want more green chemistry news, community, opportunity announcements, and BC

G

C updates?

Like us on Facebook and follow us on Twitter, @bcgc_cal!