Graduate Ethics Course Sp2015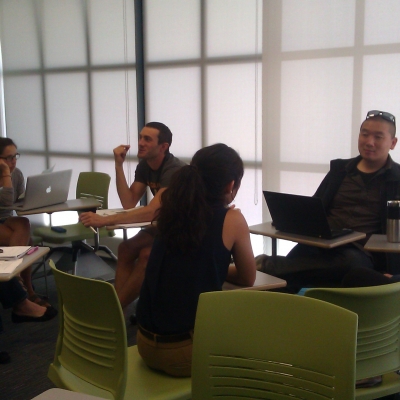 Register Now!
ESPM 290, CCN: 30299
MBA 296.3 (no CCN, non MBAs can enroll through Haas during the 3rd week of classes)
Course Overview: Using a "public ethics" framework, we will explore the practical challenges and ethical conundrums of redesigning materials and products to make them safer and more sustainable in our very complex modern industrial system. We will also investigate the problems of moving to a more environmentally and socially sustainable future.
We begin the seminar with classes that explore fundamental concepts and structures that are part of this public ethics framework. Using eleven new cases specially developed for this course about products like electric cars, flame retardants, and nanotechnology materials, we look at green design, ethical reasoning, systems thinking, life cycle analysis, information failure, regulatory failure, and organizational denial.
Next, we look in depth at two cases that map ethical issues and agency through a material's product life cycle: rare earth elements in electronics and bioplastics in drinking bottles. We then examine the potential contributions of various processes for influencing the design of sustainable materials. These processes include corporate supply chain management strategies and organizational structures, litigation in the courts, regulatory reform, design tools, and social movements. We will conclude the course with a materials problem in which you will come up with a theory of change for achieving a transition. You can vote on what this problem will be.
In general, the course will use highly interactive brainstorming processes to learn about how to transform our materials design, production and use system. After the first month, most classes will be student-led with faculty contributions and facilitation. We aim to foster a shared learning process for all of us. Throughout, we will collaborate in imagining a new system and how we can make the transition to that system. Critically, the public ethics framework we will develop can be applied to many other technological systems (e.g., water, energy, transportation).
Graduate students from all departments are encouraged to enroll, especially Chemistry, Chemical Engineering, Haas, ESPM, CNR, Political Science, Sociology, STS, Public Health, ERG, CED, Engineering, GSPP, and Law. Qualified undergraduates are eligible but must consult with the instructors.
Our learning goals are:
Understand/interrogate the key concepts of systems analysis, public ethics, life cycle, agency, green chemistry, learning, and transitions;

Develop familiarity with key ethical reasoning principles and processes;

Understand the institutional, organizational, political, and cognitive contexts within which sustainable materials design can occur;

Be capable of mapping the ethical conundrums that may exist across a material's life cycle, as well as who in this life cycle is able to influence the material's design and who should take responsibility for doing so;

Understand some processes through which materials can be made more sustainable (e.g., litigation, supply chain reforms, regulatory change, design tools, and social movements); and

Develop a public ethics framework to guide transitions toward sustainable technological systems of all kinds (not simply materials).
Registration Information
ESPM 290, CCN: 30299
MBA 296.3 (no CCN, non MBAs can enroll through Haas during the 3rd week of classes)